If you're looking to buy a bed cover that combines style, comfort, and durability, Pluchi's "Tiara Embroidered Bed Cover Trousseau" should be at the top of your list. This luxurious bed cover is designed to enhance your bedroom decor while providing the ultimate in comfort and functionality. With its exceptional craftsmanship, versatile design, and sustainable materials, it's a bedding essential that you won't want to miss.
Whether you're redecorating your bedroom or simply looking to update your bedding, the Tiara bed cover has a lot to offer. Here are some key reasons why it deserves a place in your home:
1. Exquisite Embroidery: The Tiara bed cover is a testament to Pluchi's commitment to craftsmanship. Its intricate embroidery adds a touch of elegance and sophistication to your bedroom decor. The attention to detail in the embroidery work is truly exceptional, making this bed cover a work of art in its own right.
2. Luxurious Comfort : Beyond its visual appeal, the Tiara bed cover offers exceptional comfort. Crafted from premium-quality materials, it feels soft and cozy against your skin, ensuring a restful night's sleep. The plush texture of the bed cover adds an extra layer of warmth, making it a perfect choice for year-round use.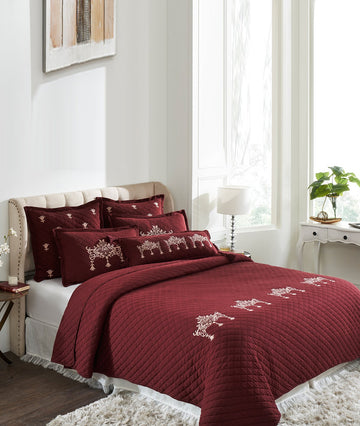 3. Versatile Design : One of the standout features of the Tiara bed cover is its versatility. It's available in a range of colors and sizes to suit different tastes and bedroom setups. Whether you have a king-sized bed or a twin-sized one, Pluchi has you covered. The elegant embroidery and subtle color options make it a great fit for various bedroom themes, from minimalist to opulent.
4. Durability and Easy Maintenance : Investing in a high-quality bed cover means enjoying long-lasting comfort. The Tiara bed cover is not only beautiful but also built to last. It can withstand regular use and washing without losing its quality or appearance. The easy-care instructions make it hassle-free to keep your bed looking pristine, saving you time and effort.
5. Enhance Your Bedroom Decor : Your bed is often the centerpiece of your bedroom, and the Tiara bed cover can instantly elevate your decor. Its exquisite embroidery and tasteful design create a captivating focal point. Pair it with complementary cushions and throws for a cohesive and inviting look. Your bedroom will be transformed into a magazine-worthy space that exudes warmth and style.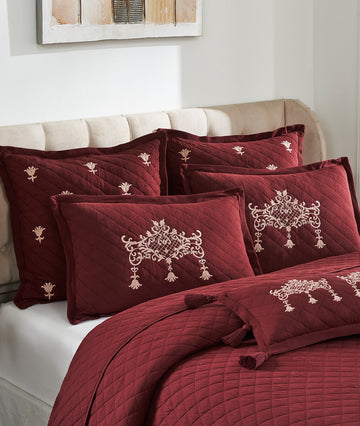 6. A Thoughtful Gift : Searching for the perfect gift for a loved one or a newlywed couple? The Tiara bed cover makes an exceptional choice. Its timeless design and premium quality are sure to be appreciated. It's a gift that not only adds beauty to a home but also offers comfort and functionality. Celebrate special occasions with this thoughtful and elegant present.
7. A Sustainable Choice : Pluchi is committed to sustainability, and this bed cover is no exception. Made from eco-friendly materials, it aligns with the brand's ethos of responsible production. By choosing the Tiara bed cover, you're not only enhancing your bedroom but also contributing to a more sustainable future.
8. Customer Satisfaction : Pluchi has a track record of satisfying customers with its high-quality home textiles. The Tiara bed cover has received rave reviews for its comfort, style, and durability. Customers appreciate the attention to detail and the luxurious feel it brings to their bedrooms.
In conclusion, Pluchi's "Tiara Embroidered Bed Cover Trousseau" is a game-changer in the world of bedroom decor. Its exceptional craftsmanship, luxurious comfort, versatility, and durability make it a must-have addition to your home. Whether you're redecorating your bedroom or searching for a thoughtful gift, the Tiara bed cover is the answer. Elevate your bedroom decor and experience the pinnacle of comfort with Pluchi's latest offering. Don't miss out on this opportunity to transform your bedroom into a haven of style and relaxation.
With its timeless design and enduring quality, the Tiara bed cover is not just a bedding accessory; it's an investment in comfort and style that will stand the test of time. Make your bedroom a place of beauty, comfort, and relaxation with Pluchi's "Tiara Embroidered Bed Cover Trousseau." Order yours today and experience the difference firsthand. Your bedroom deserves the best, and Pluchi delivers it with the Tiara bed cover.