Rakhi is a joyous celebration of the bond between siblings, and it's the perfect time to show your love and appreciation for your sisters, nephews and nieces. This year, why not surprise your sibling with thoughtful and unique gifts that add a touch of warmth and comfort to their living spaces? In this blog, we will explore five amazing gifts for Rakhi: bed cover sets, cushion covers, and throws. We will also feature exquisite products from our website www.pluchi.com, to make this Rakhi truly special for your sibling.
1. Bed Cover Sets: A Bedtime Indulgence
One of the best ways to enhance the aesthetics of a bedroom is by adding a luxurious bed cover set. These sets not only spruce up the overall decor but also offer a sense of comfort and relaxation. Pluchi.com offers a delightful range of bed cover sets made from premium-quality materials like cotton, silk, and linen. Whether your sibling prefers vibrant hues or subtle pastels, you can find the perfect bed cover set that complements their taste and style.
Pluchi.com's bed cover sets are designed with intricate patterns, embroidery, and unique prints, adding a touch of elegance to any bedroom. These sets not only make for a thoughtful Rakhi gift but also serve as a constant reminder of your love and care whenever your sibling enters their personal sanctuary.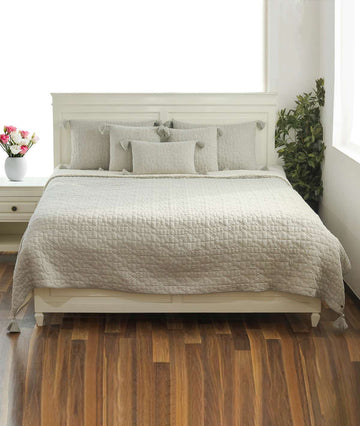 Feature Product : Diamond Linked Vanilla Grey Melange & Natural 100% Cotton Knitted King Size Bed Cover With 2 Pillow Covers and 3 Cushion Covers (Set Of 6)
2. Cushion Covers: A Splash of Color and Comfort
Cushion covers are an excellent way to spruce up the living room or bedroom effortlessly. Pluchi.com boasts a wide array of cushion covers that come in various shapes, sizes, and designs. From contemporary to traditional, these covers can instantly transform any space into a cozy haven. Opt for cushion covers that match your sibling's personality or select a mix of patterns to add an eclectic touch to their living space.
What makes Pluchi.com's cushion covers stand out is their premium craftsmanship and use of skin-friendly fabrics, ensuring maximum comfort during those leisurely moments on the couch or bed. These cushion covers are not only a thoughtful Rakhi gift but also a practical addition to your sibling's home decor collection.
Feature Product : Moss Knit Foil Print Cotton Knitted Decorative Pale Whisper & Copper Color 18 x 18 Inches Cushion Cover
3. Throws: Snuggle Up in Style
As the cool breeze starts to set in, a warm and soft throw becomes an indispensable companion. Throws are versatile home accessories that can be draped over sofas, armchairs, or beds, adding a touch of warmth and coziness to any room. Pluchi.com offers a captivating range of throws that blend contemporary designs with plush fabrics like cashmere and merino wool, promising a delightful snuggle time.
Choose a throw that complements your sibling's interior decor or opt for a bold statement piece that becomes the focal point of their living space. Each time your sibling wraps themselves in the throw, they will be reminded of the cherished Rakhi gift you gave them. 
Feature Product : Chunky Seed Stitch - Mustard 100% Cotton Knitted All Season AC Throw Blanket
4. Kids Blankets : So Soft and Cozy
For an extra touch of thoughtfulness, consider gifting your nephews and nieces Kids Blankets having themes like Disney, Marvel and fairy tales. A gift like this shows that you have put effort into selecting something unique and meaningful for your nephews and nieces on this special occasion.
5. Gift Cards: Let Them Choose
If you're unsure about your sibling's preferences, let them indulge in the pleasure of choosing their perfect gift. Pluchi.com offers gift cards that allow your sibling to explore their wide range of products and select something that resonates with their taste and style. This way, you can be certain that your gift will be treasured for years to come.
Conclusion
Rakhi is a celebration of love, and there's no better way to express your affection than through thoughtful gifts. Bed cover sets, cushion covers, and throws from www.pluchi.com offer the perfect blend of comfort and elegance, making them ideal presents for your sibling. Whether you choose the timeless charm of bed cover sets, the decorative flair of cushion covers, the warmth of throws, or opt for personalized gifts or gift cards, your sibling is sure to be delighted with your Rakhi surprise. So, go ahead and make this Rakhi truly memorable by giving your sibling the gift of comfort and style.