Home decor enthusiasts are always on the lookout for unique and stylish pieces to elevate the aesthetics of their living spaces. Pluchi, a leading online store known for its exquisite home decor products, has recently introduced an eye-catching addition to their collection - the Turtle Shaped Home Decor Basket in Stone Color. In this blog, we will delve into the charm and versatility of this delightful home decor basket, highlighting its features and various ways it can enhance your interior design. Let's explore how this charming turtle-shaped basket can breathe new life into your home decor.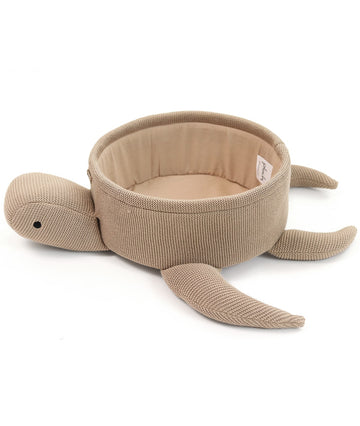 Unique Design: A Turtle with a Purpose
The Turtle Shaped Home Decor Basket is a beautifully handcrafted piece that combines artistic appeal with functionality. The basket's unique turtle shape adds a whimsical touch to any room, instantly capturing attention and becoming a conversation starter among guests. Its stone color exudes elegance and blends seamlessly with various interior styles, be it modern, contemporary, or bohemian.
Premium Quality Material: A Basket Built to Last
At Pluchi, quality is of utmost importance, and the Turtle Shaped Home Decor Basket is no exception. Made from durable and eco-friendly materials, this basket is designed to stand the test of time. Its sturdy construction ensures that it can hold various household items, making it not only a decorative piece but also a practical storage solution.
Versatility: A Decorative Piece for Every Space
The Turtle Shaped Home Decor Basket is a versatile addition to your home decor collection. Place it in the living room as a captivating centerpiece on the coffee table or use it to store remote controls or magazines. In the bedroom, it can function as a charming jewelry holder or a bedside organizer for your essentials. Its delightful design also makes it a fantastic addition to nurseries or children's rooms, offering a playful storage option for toys, blankets, or diapers.
Nature-Inspired Aesthetics: A Touch of Serenity
The turtle's association with patience, protection, and longevity brings a sense of tranquility to any space it graces. Placing the Turtle Shaped Home Decor Basket in your home can infuse a serene ambiance, reminding you to slow down and appreciate the little joys in life. Its stone color further enhances this calming effect, creating a soothing atmosphere in your living space.
Handcrafted Elegance: A Showcase of Artistry
The beauty of the Turtle Shaped Home Decor Basket lies in its handcrafted elegance. Each piece is meticulously crafted by skilled artisans, ensuring attention to detail and unique variations. As a result, you receive a one-of-a-kind home decor item that adds a personal touch to your interior design.
Gift-Worthy Treasure: A Thoughtful Gesture
Looking for the perfect gift for a loved one who appreciates exquisite home decor? The Turtle Shaped Home Decor Basket fits the bill perfectly. Its distinctive design and practicality make it an ideal present for housewarmings, birthdays, or any special occasion. Your loved one will cherish this beautiful gift and find endless uses for it in their home.
Conclusion
The Turtle Shaped Home Decor Basket in Stone Color from Pluchi is a captivating addition to their new arrivals collection. With its unique design, premium quality material, and versatility, this charming turtle-shaped basket is more than just a decorative piece; it's a functional storage solution that brings nature-inspired aesthetics to your living space. Handcrafted with elegance and designed to last, this basket is a treasure worth investing in for yourself or a loved one. So, why not add a touch of serenity and artistry to your home decor with the Turtle Shaped Home Decor Basket from Pluchi?