In the realm of home decor and interior design, there's nothing quite as satisfying as elevating the aesthetics and comfort of your living space. Pluchi, a name synonymous with luxury and quality, has once again outdone itself with its latest offering: the Miraya Medium Beige 100% Cotton Knitted King Size Bed Cover. This exquisite creation not only showcases Pluchi's commitment to top-notch craftsmanship but also introduces a new level of comfort and style to your bedroom. Let's delve into the details of this new arrival and discover why it's a must-have addition to your home.
Unveiling the Miraya Bed Cover
The Miraya Bed Cover is a masterpiece that combines artistry, functionality, and comfort in one stunning package. Crafted from 100% cotton, this knitted king-size bed cover promises a touch of opulence that is both inviting and cozy. The medium beige hue of the cover exudes warmth and elegance, making it a versatile addition to any bedroom decor scheme. Its neutral shade ensures that it effortlessly complements various color palettes, allowing you to play with other decor elements without any limitations.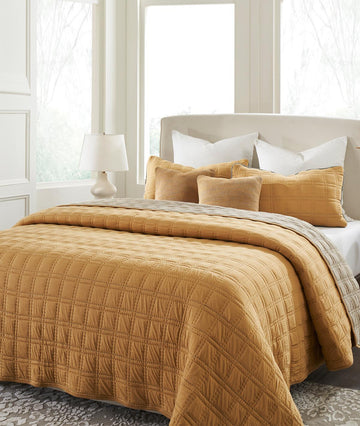 Complete Ensemble for Your Bed
What sets the Miraya Bed Cover apart is its thoughtful inclusion of not only the main bed cover but also accompanying accessories. With 2 pillow covers and 2 cushion covers, Pluchi has created a complete ensemble that lets you effortlessly transform your bed into a luxurious haven. The harmonious coordination of the covers ensures a cohesive and polished look that's sure to impress.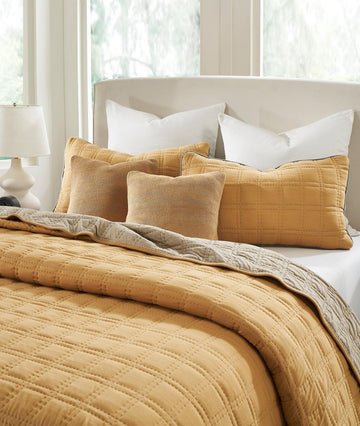 Luxurious Comfort Redefined
When it comes to comfort, Pluchi leaves no stone unturned. The 100% cotton composition of the Miraya Bed Cover isn't just about aesthetics; it's a commitment to providing you with the most comfortable and soothing sleep environment. Cotton, known for its breathability and softness, ensures that you experience unparalleled comfort every time you slip into bed. The knitted texture adds a layer of tactile delight, making it perfect for cozying up during chilly nights.
Exquisite Design and Detailing
The design of the Miraya Bed Cover is a testament to Pluchi's attention to detail and artistic finesse. The knitted pattern is not just visually appealing; it's a tactile delight that adds depth and character to your bedding ensemble. The medium beige tone, carefully chosen to radiate tranquility, complements the intricate pattern beautifully. Whether your bedroom style leans towards contemporary, rustic, or eclectic, the Miraya Bed Cover seamlessly adapts to your vision.
Packaging: A Touch of Luxury
Pluchi understands that presentation matters as much as the product itself. The Miraya Bed Cover arrives in an elegant fabric bag packaging, enhancing the overall experience of unboxing and unveiling this exquisite creation. This attention to packaging detail is a reflection of Pluchi's commitment to making every interaction with their products a luxurious affair.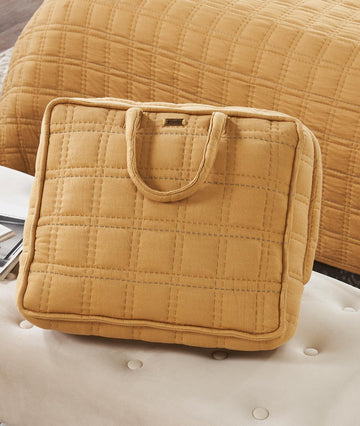 Versatility in Styling
One of the most alluring features of the Miraya Bed Cover is its versatility in styling. Whether you're aiming for a laid-back bohemian vibe or a more formal and refined look, this bed cover effortlessly accommodates your creative visions. Drape it casually for a relaxed atmosphere, or layer it precisely for a sophisticated ambiance. The accompanying pillow and cushion covers allow you to experiment with different arrangements and moods, making your bed the focal point of your room.
Conclusion
In the world of home decor, Pluchi's Miraya Medium Beige 100% Cotton Knitted King Size Bed Cover stands as a symbol of luxury, comfort, and style. This new arrival redefines the concept of bedding ensembles by offering a complete package that includes the main bed cover, pillow covers, and cushion covers – all designed to harmonize seamlessly. The medium beige hue, the knitted texture, and the intricate pattern come together to create a bed cover that's not only visually stunning but also incredibly comfortable.
With Pluchi's commitment to craftsmanship, attention to detail, and dedication to providing customers with the best in comfort and style, the Miraya Bed Cover is a testament to their reputation as a leading name in the world of luxury home textiles. Elevate your bedroom decor and sleep experience with this exceptional creation, and indulge in the ultimate blend of comfort, elegance, and sophistication that only Pluchi can offer.